---
Pin Discussion
---
5039 - Haunted House Skeleton in outhouse Pin set #4
11-19-2019, 06:40 PM,
alexisthemermaid
Junior Member


Trade Count: (0)
Posts: 1
Threads: 1
Joined: Dec 2015
Reputation: 0
5039 - Haunted House Skeleton in outhouse Pin set #4
I have this pin for sale, so I figured I would post it on here and see if anybody is interested. I am not a huge buyer/seller of pins, just a casual trader when I go to Disneyland every year with my mom. Feel free to message me and send me an offer, I suppose? I am just in need of money and found this LE 3000 pin sitting unloved in my cabinet.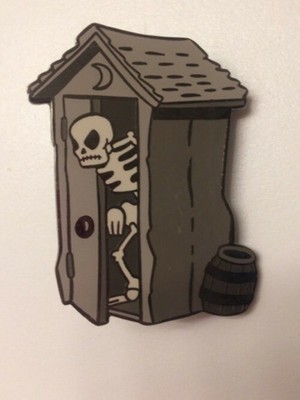 11-23-2019, 12:32 PM,
pintraderclub
Junior Member


Trade Count: (0)
Posts: 6
Threads: 4
Joined: Jul 2019
Reputation: 0
RE: 5039 - Haunted House Skeleton in outhouse Pin set #4
That's a great pin! Good luck shifting it :-)
Users browsing this thread: 1 Guest(s)